Pendulum Grinder for Sample Preparation
SPECTRAL PG 52 is a compact bench-top pendulum grinder for fast grinding of iron and steel samples for spectroscopic analysis. It has a simple and reliable design with low noise and dust generation levels. It is completely enclosed and dust proof with LED spot light. The front cover can be completely opened for easy access to all sides.
Spectral PG 52 is equipped with braking device permitting a rapid stop of the grinding wheel. The machine is fitted with an interlocking safety device not allowing the hood being opened before the grinding motor is stopped.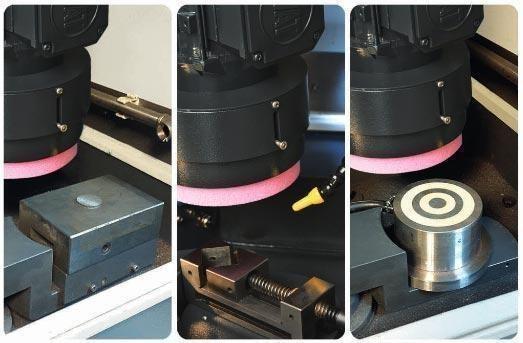 Magnetic Clamping Device
Mechanical Clamping Device
Electromagnetic Sample Clamping Device
SPECTRAL PG 52 is suitable for wet and dry grinding with minimum maintenance required which is mainly cleaning. It is possible to attach an external dust exhauster to the standard outlet at the rear side. The grinding arm is placed just in front of the machine making it ergonomic and easy to handle. SPECTRAL PG 52 is especially suitable to grind hard materials like white cast irons. It is also possible to prepare other materials by using special stone cup wheels which are easy to exchange.
Vertical movement (Z-axis) of grinding head is by handwheel in front and positioning with 0,01 mm accuracy is possible. Reproducible flat surfaces are achieved with column mounted on taper bearings. Manual V-shaped clamping vice, Electromagnetic and Mechano-magnetic plates are available as accessories.
Automatic Cup Grinder for Sample Preparation
Spectral AG 102 is an automatic cup grinder for spectroscopic sample preparation of iron and steel samples.
Heavy duty cast aluminium base with motorized vertical drive provides accurate control. High-torque grinding motor rotating at 2800 rpm guarantees high material removal rate. Spectral AG 102 is equipped with automatic sample feed with fine speed control. Fast advance and reverse are available. Automatic cup wheel positioning is done with a laser measurement station. This ensures extremely precise positioning with shorter times. All important parameters of the grinding process like feed rate and grinding depth are preset with digital display. Pneumatic Clamping Device, Electromagnetic clamping device and T-slotted table are offered as optional accessories.
An automatic diamond dresser keeps the grinding stone plane and sharp for optimum performance and precise results. The multi-pass grinding depth is monitored accurately with material height measurement system. Instead of relying on preparation time, the necessary amount of material to be removed can be specified with the shortest possible grinding time.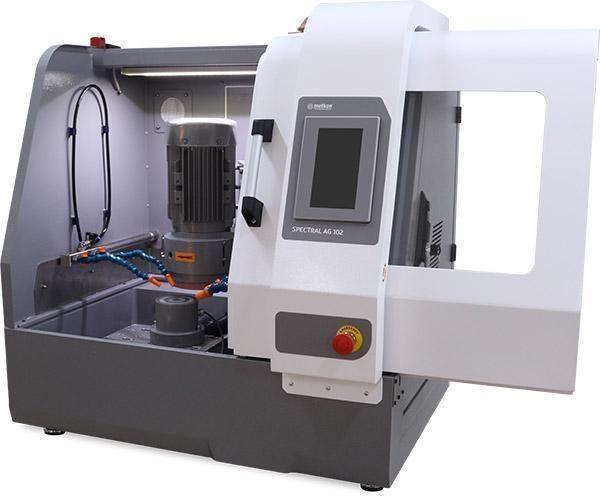 Pneumatic Clamping Device
Electromagnetic Clamping Device
T-slotted Table
Air Cooling System
Air cooling unit is strongly recommended so that the surface temperature of the sample is kept at an optimum. The entire working area is totally enclosed. Electronic brake is integrated to the system for a rapid stop of the grinding stone. The interlocking safety device does not allow the hood to be opened before the grinding motor is stopped.
| | | |
| --- | --- | --- |
| Model | SPECTRAL PG 52 | SPECTRAL AG 102 |
| Grinding motor power, Kw, (S1) | 3 | 3 |
| Grinding wheel Speed, (rpm) | 2800 | 2800 |
| Cup wheel Diameter, (mm) | 150 | 150 |
| Radius of arc | 68 | - |
| Travel, mm | 203 | - |
| Table feed rate (mm/sn) | - | 10 - 250 |
| Y-Axis Stroke, (mm) | - | 210 |
| Z-Axis Stroke, (mm) | 60 | 60 |
| HMI Touch Screen | - | 7" |
| Operation | Manual | Automatic |
| Program Memory | - | 99 |
| Grinding Depth Accuracy, (µ) | - | 10 |
| Dimensions, WxDxH, (cm) | 94 x 83 x 97 | 94 x 83 x 97 |
| Dimensions, WxDxH, (cm),with cabinet | 94 x 83 x 175 | 94 x 83 x 175 |
| Weight, (kgs) | 300 | 300 |
| Weight, (kgs),with cabinet | 385 | 385 |