Rockwell Hardness Tester
The N3A hardness tester has a load range of 15-187.5 kgf and covers Rockwell, HBD, HVD and Plastic testing. The N3A can easily load applications by means of 180° lever (pre and main load step).
Variable test loads
The N1A test unit with exchangeable spring sleeves is used for different loads. (Spring sleeves with different loads).
Several test loads combined
Four load adjustable test units available. Required test load selected via lever.
Dial gauge
N3A hardness tester measurement readings via analogue dial gauge. Three coloured scales printed on the clock-face. Hardness value read on corresponding scale according to chosen test method and test load.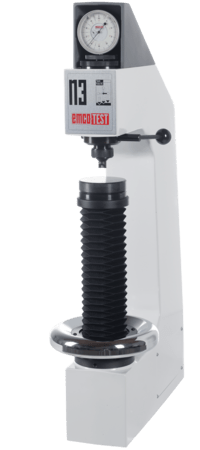 Rockwell
According to ISO 6508, ASTM E18
| | | | | | |
| --- | --- | --- | --- | --- | --- |
| HRA | HRL | HR 15-T | HRB | HRM | HR 30-T |
| HRC | HRP | HR 45-T | HRD | HRR | HR 15-W |
| HRE | HRS | HR 30-W | HRF | HRV | HR 45-W |
| HRG | HR 15-N | HRH | HR 30-N | HRK | HR 45-N |
Plastic testing
According to EN ISO 2039
| | | | |
| --- | --- | --- | --- |
| 49.03 N | 132.9 N | 357.9 N | 961 N |
HVD, HBD
Depth measurement
HVD 30
HBT 1/30
HBT 2.5/62.5
HBT 5/62.5
HVD 100
HBT 2.5/31.5
HBT 2.5/187.5
Technical Data:
| | |
| --- | --- |
| Measurement readings | Analog dial gauge |
| Height adjustment: | Hand wheel 285 mm |
| Test height (N1A unit and spring sleeves): | 230 mm |
| Test height (with load adjustable test unit): | |
| Throat depth: | 170 mm |
| Max. work piece weight: | 20 kg |
| Dimensions w x h x d: | 205 x 830 x 470 mm |
| Basic machine weight: | 35 kg |
| Room temperature: | 5 - 40° |