Planar grinding of very large specimens
Planar Coarse Grinder is designed for first step initial planar grinding of very large specimens or a high volume of specimens in specimen holders. It is fast and efficient in providing high quality flat specimen surface thus saving time on the subsequent fine grinding and polishing steps. Specimen holders of 145 mm diameter having 6 specimens can be prepared in less than a minute with upto 7'' (175 mm) stone cup which requires minimal dressing.
DIGIPREP PLAN is an automatic planar grinder for the first step plane grinding of metallographic specimens. It can easily provide enough specimens for two or three Digiprep polishing machines.
Heavy duty cast aluminium base with mechanical vertical drive provides accurate control. High-torque grinding motor rotating at 2800 rpm guarantees high material removal rate. By using different cup grinding stones ferrous as well as non-ferrous specimens can be prepared easily. DIGIPREP PLAN is equipped with automatic sample feed with fine speed control.
Fast advance and reverse are available. All important parameters of the grinding process like feedrate and grinding depth are preset with digital display. Different jaw chucks to secure the specimen holder, T-slotted table and other clamping devices are offered as optional accessories.
A recirculating cooling unit is strongly recommended so that a rust inhibitor can be added and the grinding swarf can be collected. The entire working area is totally enclosed. Electronic brake is integrated to the system for a rapid stop of the grinding stone. The interlocking safety device does not allow the hood to be opened before the grinding motor is stopped.
Forciplan - Benchtop Planar Grinding Machine
A manual, compact, bench-top pendulum grinder for initial, planar grinding of metallographic specimens, the Forciplan has a simple and reliable design with low noise and dust generation levels. Completely enclosed to prevent dust, the grinding arm is positioned at the front making it easy to handle.
Interlocking switch for safe operation
Robust column mounted in taper roller bearings.
Low noise, 2.2 kW and 2,800 rpm motor
Easy handling with manual sample swing movement from the front of the machine.
Precision vertical positioning of the grinding head to an accuracy of 0.01 mm.
Large working space with LED lamp and outlet for dust extraction.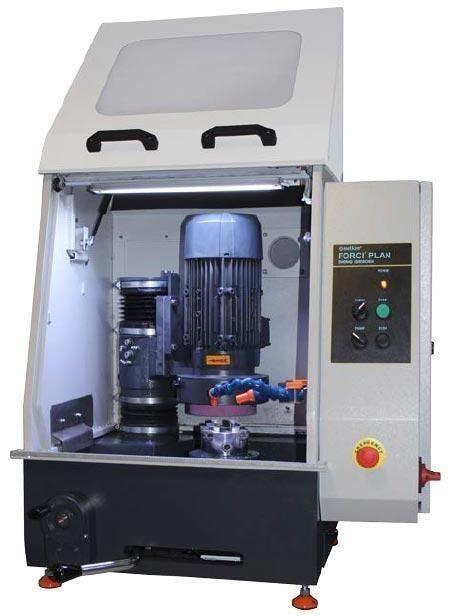 | | | |
| --- | --- | --- |
| Model | DIGIPREP PLAN | FORCI PLAN |
| Grinding motor power, (kW) (S1) | 2.2 | 2.2 |
| Grinding motor power, (kW) (S3) | 3 | 3 |
| Grinding wheel Speed, (rpm) | 2800 | 2800 |
| Cup wheel Diameter, (mm) | Ø175 | Ø150  |
| Operation | Automatic | Manual |
| Table Feedrate, (mm/s) | 0.5-30 | - |
| Radius of Arc |   | 52 |
| Travel (mm) |   | 203 |
| HMI Touch Screen, (inch) | 5.7" | - |
| Program Memory | 25 | - |
| Grinding Depth Accuracy (µ) | 10 | - |
| Y-Axis Stroke, (mm) | 160 | - |
| Z-Axis Stroke, (mm) | 80 | 80 |
| Dimensions, WxDxH, (cm) | 88 x 66 x 74 | 69 x 83 x 73 |
| Dimensions, WxDxH, (cm) (with cabinet) | 88 x 66 x 155 | 69 x 83 x 155 |
| Weight, (kgs) | 185 | 170 |