Precision Cutters
MICRACUT precision cutters are used for precise and deformation-free cutting of "Metals, Ceramics, Electronic Components, Crystals, Composites, Biomaterials, Sintered Carbides, Minerals, etc." MICRACUT has its place in virtually any metallurgical, geological, electronics, research, biomedical or industrial laboratory.The applications are endless.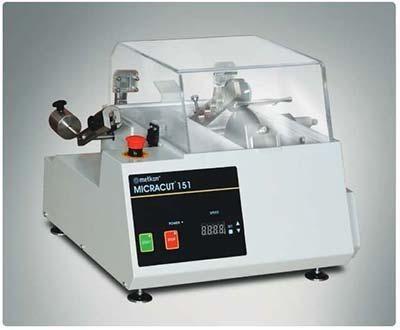 MICRACUT Series are capable of cutting most materials such as, brittle or ductile metals, hard or soft metals, composites, ceramics, rocks, biomaterials, laminates, etc. They are designed for cutting all types of materials with minimal structural deformation.The structural integrity of the sample is maintained through MICRACUT's design and operation. Additionally, low kerf-loss and sample holding versatility makes the MICRACUT an essential part of the modern day laboratory. The cut surface is ready for microscopic examination with minimal polishing.
MICRACUT 151 accomodates diamond and abrasive wheels up to 150 mm (6") diameter and the speed range is between 0 and 1000 rpm. The gravity feed loading design minimizes sample deformation.The sliding weight arm with counterweight allows precise force application. The digital micrometer enables the operator to set the cutting width with a resolution of 1 micron. The digital micrometer is interchangable and the customer can mount other types of micrometers if and whenever required. The coolant tray is removable from the front of the instrument for easy cleaning.
MICRACUT 151's cutting chamber is fully enclosed by a transparent hood. Blade dresser is optionally available. At the end of the cut, an audible signal notifies the operator.
Optional Cutting Table Attachment is available for manual cutting of extra flat large specimens and PCB's.
MICRACUT 201 is built on precisely manufactured heavy duty aluminium frame providing stable and vibration resistant base for precision components and linear bearings. The cutting compartment is fully enclosed. The transparent hood is equipped with interlocking safety switch. Powerfull cutting motor has variable cut-off wheel speeds from 400 up to 5000 rpm allowing both high speed and low speed cutting. By moving the cutting table, MICRACUT 201 can cut larger and deeper samples. Wide range of clamping tools can be used on the T-slotted moving table. Optional X - axis table with motorized drive mechanism positions the specimen with 5 microns positioning accuracy. Optional stand can accomadate all MICRACUT specimen vises with devotail plates. The height of the cut-off wheel (Z-axis) can be adjusted up to 45 mm. Diamond, CBN and abrasive cut-off wheels up to 200 mm diameter can be used. By height adjustment (Z-axis), the wheel wear is easily compensated. Different flange sets are available which can be selected according to the requirement of maximum cutting capacity or max. wheel support. Various clamping tools and accessories are available for different specimen geometry and applications.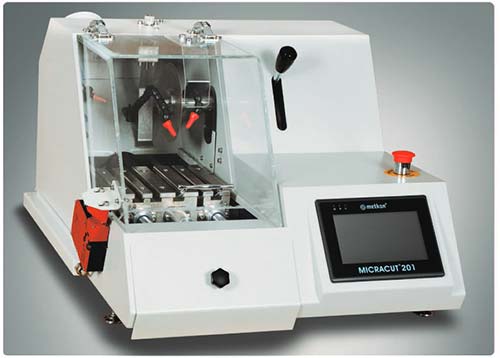 Automatic X-axis positioning unit
Manual X-axis positioning unit
Stand for specimen vises
Stand with rotation
MICRACUT 201 has advanced techniques and software with programmable HMI touch screen controls increasing the productivity, sample consistency and operator comfort.
Cutting Parameters:
The preselection of the cutting force level as well as the setting of cutting feed rate (0,020 - 1,5mm / sec) is possible from the touch screen LCD. The feed rate is automatically adjusted, if needed reduced, resulting in perfect cuts and eliminating sample and machine damage.
Multi-Slice Cutting:
The optional automatic x-table allows programmable plane parallel sectioning. Slices of equal thickness with number of slices as well as programming slices of different thickness is possible.
| | |
| --- | --- |
| Model | Micracut 151 |
| Cutting Capacity, ø (mm) | 50 |
| Disc Dia., (mm) | 150 |
| Cutting Method | Gravity Feed |
| Power, (Watt) | 100 |
| Disc Speed, (rpm) | 0-1000 |
| Dimensions, W+(mic.)xDxH, (cm) | 51 x 43 x 34 |
| Weight, (kgs) | 28 |
| Voltage | 1 ph, 230V, 50Hz. AC |
Programmable Return Positions
MICRACUT 201 has 3 different stop modes: Auto stop: Stops when the specimen has been cut through. Relative Stop: Stops when it has returned to its starting point. Absolute Stop: Stops when the ultimate reset point in all axes has been reached.
Database
A library of 25 different cutting programs with related specimen name or number can be saved with all cutting parameters which can be recalled at anytime. Data with cutting consumables is also listed for easy selection.
| | |
| --- | --- |
| Model | Micracut 201 |
| Disc Dia., (mm) | 200 |
| Cutting Capacity, ø (mm) | 75 |
| Cutting Capacity, # (mm) | 40x150 |
| Positioning Range x-Axis, (mm) | 25 |
| Positioning Range y-Axis, (mm) | 180 |
| Positioning Range z-Axis, (mm) | 45 |
| T- Table Dimensionsı, mm (WxD) | 196x190 |
| T-Slot dimensions | 12 |
| Cutting Power, (S1) | 0.75 |
| Cutting Power, (S3) | 1 |
| Wheel Speed, (rpm) | 500-5000 |
| Paralel Cutting , x-axis | Optional |
| Positioning Accuracy, X-axis (µ) | 5 |
| Feedrate Y-Axis | 20 - 1500 |
| Cutting Method | Table Feed |
| HMI Touch Screen, (inch) | 5.7 |
| Rotational Cutting | Optional |
| Pulse Cutting | Yes |
| Cup Grinding | Yes |
| Dimensions, WxDxH, (mm) | 660x750x450 |
| Weight (kg) | 100 |
Quick acting clamping vise assembly
Vertical clamping device
Blade dresser available for dressing even during cutting
Recirculating coolant tank with 4,5 lt capacity
Micracut Precision Cutting catalogue
Precision Cutting Accessories
Automatic X-axis positioning unit for programmable positioning in the X-axis with serial plane parallel cutting capability
GR 0824 for MICRACUT 201
Manual X-axis positioning unit for specimen vices with dovetail plates.
GR 0825 for MICRACUT 201
Stand with rotation for specimen vices with dovetail plates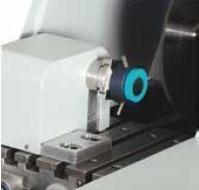 GR 0826 for MICRACUT 201
Stand for specimen vices with dovetail plates
GR 0547 for MICRACUT 201
Clamping Tools
GR 0548 for MICRACUT 201
GR 0551 for MICRACUT 201
15 05 for MICRACUT 201 & GEOCUT
Vacuum Sample holder for thin sectioning(To be ordered simultaneously together with the machine order)
GR 0579 for MICRACUT 201
Cutting Table Attachment for manual cutting of extra flat specimens & PCB's
GR 0212 for MICRACUT 151
Dressing Unit
GR 0409 for MICRACUT 151
Universal Specimen Vice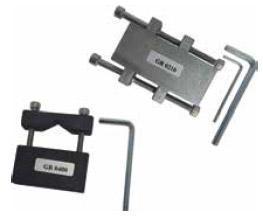 GR 0210 for MICRACUT 201
GR 0400 for MICRACUT 201/151
Specimen vice with double parallel vice for long specimens
GR 0401 for MICRACUT 201/151
Specimen vice for round, cylindrical and mounted specimens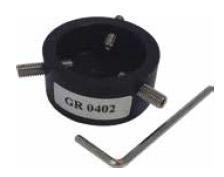 GR 0402 for MICRACUT 201/151
GR 0434 for MICRACUT 201/151
Specimen vice for irregular shaped specimens
GR 0403 for MICRACUT 201 /151
Specimen vice for adhering specimens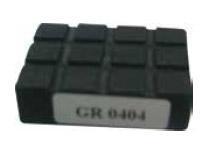 GR 0404 for MICRACUT 201/151
Specimen vice for biomedical samples

GR 0405 for MICRACUT 201/151
Specimen vice (teardrop shape)
GR 0430 for MICRACUT 201/151
GR 0431 for MICRACUT 201/151
Fastener vice for longitudinal sectioning of screws,fasteners, tubes,etc.from 12 to 45 mm.in length
GR 0453 for MICRACUT 151/201
Cabinet for floor model
GR 0938 for MICRACUT 201