Spectral MMax - Fully Automatic Sample Preparation for Steel and Cast Iron
Spectral MMax is a fully automatic milling machine for fast milling of steel, cast iron and nonferrous samples for optic emissions and X-ray spectrometer analysis. Automatic fine surface milling guarantees the highest level of reproducibility through automatic processing of the specimen. Spectral MMax has a robust and reliable design with low noise and emission levels. It is completely enclosed and sound insulated with LED spotlight. The front cover can be completely opened for easy access to all sides.
Spectral MMax is equipped with automatic sample feed with fine speed control. Fast advance and reverse are available. All important parameters of the milling process like feedrate, milling depth, spindle speed are adjustable on the touch screen LCD. The spindle can be adjusted to different materials to achieve optimum surfaces.
Spectral MM is suitable for different sample shapes with diameter up to 60mm and max 65 HRC hardness. The special clamping device is included in the standard scope of supply of the machine. The clamping device is designed for fast and positive clamping of a wide variety of sample sizes and shapes as round/cylindrical or conical, oval mushrooms or lollipop.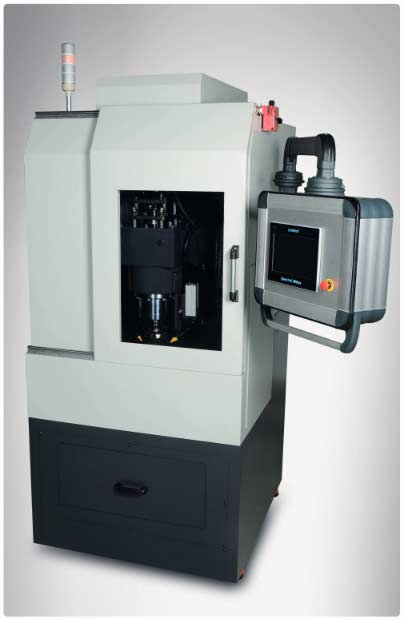 Spectroscopy Sample Preparation catalogue
Accessories for Spectral MMax Sample Preparation Machine
Milling Head
GR 1823 for ferrous, 80 mm. SPC MMax
GR 1824 for ferrous, 100 mm. SPC MMax
GR 1834 for nonferrous, 100 mm. SPC MMax
GR 1825 With integrated deburring,SPC Mmax
Automatic height Calibration
GR 1826 for SPECTRAL MMax