Fully Automatic Programmable Grinding/Polishing System (operator free)
The DIGIPREP Velox Fully Automatic Programmable Grinding/Polishing System is developed for operator free sample preparation for high volume sample throughput starting from planar/coarse grinding to cleaning and drying. You only need to place the sample holder, select the program number for your specific application and de­press the "Start" button. That's it! Your samples will be ready for analysis fully automatically.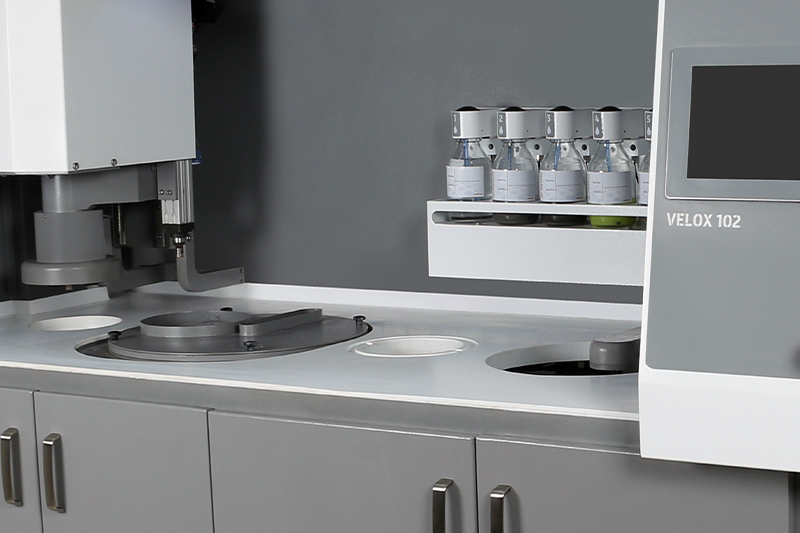 DIGIPREP Velox Automatic programmable grinding and polishing system is available with 4 grinding/polishing stations (1 coarse grinding, 1 fine grinding and 2 polishing) which can accommodate 250 mm diameter wheel as well as 300 mm. diameter wheels. The grinding/polishing stations can be config­ured independently according to the specific require­ment of the abrasives. The vibration free, robust steel construction ensures extremely flat specimen surfaces.
The high speed grinding station with a variable speed between 100 - 1200 RPM enables quick planar/course grinding of the specimen surface. For fine grinding and polishing stations the variable speed between 50-600 RPM makes it suitable for grinding and polishing of wide range of materials. Each station can be config­ured for specific abrasive requirements. Water, dia­mond suspensions, diamond lubricant, aluminum oxide and colloidal silica dispensing are fully integrated and controlled through touch screen.
Servo-motor driven Head proceeds from one step to the next automatically securing the highest level of ac­curacy and reproducibility. Automatic Head can apply both "Central" and/or "Individual" forces. It can accom­modate single samples as well as multi - sample hold­ers thus offering a perfect solution for all levels of sample throughput requirements. A built-in encoder allows you to measure the amount of material removed from the surface. The desired grinding depth can be set to grind different type of samples and also for applica­tions that needs special accuracy.
A library of 25 different preparation programs with related specimen name or number can be saved with all parameters of each grinding/polishing station which can be recalled at any time. Upon completion of the cycle, an acoustic signal lets the operator know that the cycle is over and the samples are ready for analysis. When required, it is also pos­sible to intervene in the program and change the parameters without stopping the instrument.
Fully automatic sample cleaning station with water and ethanol is a standard accessory for DIGIPREP Velox. Optional Ultrasonic Cleaning is available to thoroughly remove all traces of contamination tightly ad­hering or embedded onto specimen surfaces. The level of liquid in ultra­sonic cleaning station is monitored continuously and refilled automati­cally when the liquid level is not sufficient. After completion of the final cleaning process the sample holder is posi­tioned above the hot air dryer for the drying process. The cleaning and the drying steps can be programmed separately for each grinding/polishing station.
| Model | Digiprep Velox |
| --- | --- |
| Stations | 4 Grinding/Polishing |
| Specimen Cleaning | Water + Ethanol |
| Ultrasonic Cleaning | Optional |
| Specimen Drying | Hot Air Drier |
| Specimen Holder Type | Central + Individual |
| Disc Diameter, mm | ø250 ø300 |
| Dosing Unit | 8 peristaltic pumps |
| Coarse Grinding Speed | 100-1200 RPM |
| Fine Grinding/Polishing Speed | 50-600 RPM |
| Base Motor Power | 1.1 kW |
| Head Speed | 50-150 RPM |
| Head Motor Power | 100 W |
| Horizontal Movement System | Servo Motor |
| Individual Force | 5-70N |
| Central Force | 30-500N |
| Grinding Depth Measurement Sensor | Yes |
| HMI Touch Screen | 10 inches |
| Recirculation Cooling System | 2 x Enviro (Optional) |
| Beacon(Warning Light) | Yes, (3 colors) |
| Dimensions, mm, WxDXh | 2946 x 926 x 1791 |
| Weight, kgs | 1350 |
Two Built-in Peristaltic Dispensers are located in the cabinet and guarantees exactly the same dosing every time. Diamond suspensions I lu­bricants and aluminum oxide suspensions can be fed. Dispensing parameters like; frequency, fluid selection etc. are controlled through the programme memory of the Digiprep Velox. Each dispenser has 3 peristaltic pumps for diamond suspensions I lubricant and 1 pump for alu­minum oxide suspension. The liquid is dosed exactly to where the operator wants it on the polishing cloth. No vaporization or spray mist occurs.
Programmable HMI touch screen controls
Automatic sample cleaning station
Storage For Specimen Holders