Diaflex diamond impregnated sheets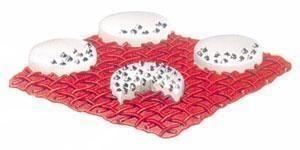 Kemet Diaflex is a self adhesive flexible diamond material which combines the long life and aggressive cutting action of diamond with the flexibility of cloth.
Supplied in either discs or squares from Grit 60 - 12000.
The diamond is either nickel bonded (N) or resin bonded (R).
Diamond Discs
Dimensions
Grade
150mm
200mm
230mm
250mm
300mm
Code
Code
Code
Code
Code
Green (N)
Grit 60, 250 Micron
342074
342025
342075
342076
342068
Black (N)
Grit 120, 125 Micron
342001
342002
342077
342026
342027
Red (N)
Grit 200, 74 Micron
342004
342005
342067
342028
342029
Yellow (N)
Grit 400, 40-50 Micron
342006
342007
342071
342030
342031
White (N)
Grit 800, 20-30 Micron
342032
342008
342072
342033
342034
Yellow / White (R) Grit 800, 20-30 Micron
342078
342035
342079
342080
342047
Blue (R)
Grit 1800, 6-12 Micron
342042
342009
342073
342081
342084
Orange (R)
Grit 12000, 1-3 Micron
342069
342010
342082
342083
342085
Diamond Squares
Dimensions
Grade
100mm x 100mm
150mm x 150mm
300mm x 300mm
Code
Code
Code
Green (N) Grit 60, 250 Micron
342011
342013
342048
Black (N) Grit 120, 125 Micron
342014
342070
342049
Red (N) Grit 200, 74 Micron
342016
342036
342050
Yellow (N) Grit 400, 40-50 Micron
342018
342066
342051
White (N) Grit 800, 20-30 Micron
342020
342037
342052
Yellow / White (R) Grit 800, 20-30 Micron
342038
342044
342053
Blue (R) Grit 1800, 6-12 Micron
342043
342021
342054
Orange (R) Grit 12000, 1-3 Micron
342022
342023
342055