Special Media For Vibratory Finishing Machines
Special Plastic Media
Developed to finish components manufactured out of non-ferrous, semi-precious and precious metals as well as stainless steel. Some of the applications include grinding and polishing.
SPM4 (particularly good for achieving a low surface finish on medical implants manufactured using materials such as Cobalt Chrome and Stainless Steel).
SPM7, SPM6 and SPM5 (recommended for removing machining lines on Cobalt Chrome and Stainless Steel parts, SPM7 being the most aggressive plastic media option). For further dimensions and special types of media specific for your application, please contact us.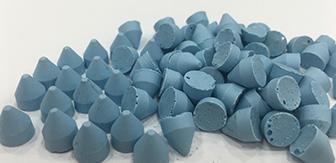 Stainless Steel
Mainly used for burnishing, cleaning and light deburring. This media wears very slowly with a life of up to 10,000 hours. For a burnished finish it is recommended that the media is used with the burnishing compound in the Vibratory Bowl Ball Burnishing machine series which has the added reinforcement needed to cope with the weight of the media.
Stainless Steel Balls (available in sizes ranging from 2mm to 6mm in diameter)
Stainless Steel Ball Cones (dimensions on request).
Stainless Steel Pins (dimensions on request).
Aluminium Oxide
An aggressive and tough media suitable for different applications such as general blasting, surface finishing, grinding, polishing, matte finishing and edge rounding, it is also used for cleaning and preparing the component surface prior to plating or painting. A durable abrasive, aluminium oxide, can be recycled a number of times making it a cost effective media to deburr parts made from hard metals and sintered carbide. It is also much lighter than other media making it ideal for components with a thin sections. It is available in the following options:
Brown Aluminium Oxide (high performance for aerospace and automotive industries).
White Aluminium Oxide (commonly used in the medical industry).
Wood Media
This media can be used in different applications on part materials such as plastic, nylon, ceramics, wood and metals. Generally used alongside with liquid compounds to achieve a smooth or polished finish. Also used for dry tumbling or light deburring, wood media is available in different sizes and shapes: Cubes, Diamonds, Pegs.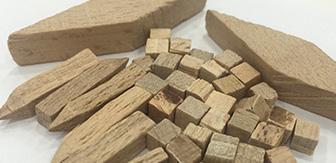 For further information, please contact us.