Precision Thin Sectioning Instrument For Mineralogy
Preparing thin sections requires highly precise instruments and knowhow. GEOFORM is a bench-top instrument that will cut and grind down to 30 microns or less depending on the hardness of the material because mineralogical specimens usually contain hard and soft phases.
GEOFORM has two parts: Cutting and Grinding. On the cutting module, the specimen is fixed on a holder with vacuum and resectioned upto a thickness of approx. 0,5mm. Water cooling during cutting avoids deformation. Can accomodate diamond and CBN cut-off discs up to 250 mm diameter.
Precision thin sectioning instrument for mineralogy.
Cutting and Grinding processes combined.
Specimen Holder with Vacuum for standard slides.
Built in micrometer with digital readout.
Water cooling
The grinding module is designed for precision grinding. A universal vacuum holder accepts different sizes of glass slides by changing the location pins. A vacuum pump delivered as standard holds the glass slide fixed on the holder during grinding process.
A built-in digital micrometer ensures high precision and the specimen is ground with an accuracy of 2 microns.
Diamond cutting disc and grinding wheels are both on the same spindle which is precisely alligned for high accuracy. A dual in-line filtering unit removes the moisture from the vacuum line and drains into the cutting chamber when the vacuum pump is turned off.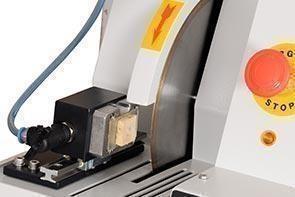 Model
Geoform
Cutting Wheel Speed, (rpm)
1400
Grinding Stone Speed, (rpm)
1400
Cutting Wheel Dia., (mm)
250
Grinding Wheel Dia., (mm)
175
Recirculating Tank (Optional), (lt)
40
Glass Slide Dimensions
1" x 2"
1" x 3"
2" x 3"
Digital Micrometer
Yes
Motor Power, (HP)
550 W
Dimensions, WxDxH, (cm)
53x75x42
Weight, (kgs)
83
Slide Accessory Kits
For slide sizes
Code
Includes sample holder and set of flanges ø73 mm
76 x 26 mm *
345718
76 x 51 mm **
345719
Diamond Cup Wheels
Range of diamond cup grinding wheels for petrography, for use with the Geoform. Other sizes available on request.
| Size | Micron | Code |
| --- | --- | --- |
| Ø 175 mm | 35 | 345201 |
| Ø 175 mm | 65 | 345200 |
Petrography & Geological Sample Preparation Catalogue
Accessories for Petrography
Accessories set for cutting large specimens, GEOFORM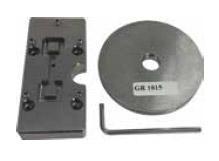 GR 1815 for 1"x3"
GR 1817 for 2"x3"
Recirculating Coolant System
GR 1383-00 for GEOFORM