Light-Industrial Ultrasonic Cleaners
Kemet Bench Top Ultrasonic Cleaning Baths are constructed from stainless steel, and are designed for heavy duty operation. The bench top Ultrasonic Cleaners range from 3 Litres, up to 45 Litres and are ideal for Ultrasonic Cleaning in the fields of:- dental, health care, printing industry, watch / clock making, jewellery, small batch production and all kinds of precision mechanics.
Digital generator operates piezo-ceramic transducer elements giving a powerful cleaning effect. The Booster function, for extra power, can be used for the most difficult cleaning tasks. Distribution of the ultrasonic energy is achieved by the frequency sweep to give precision cleaning throughout the tank. All models are equipped with thermostatically controlled heating to ensure optimum cleaning temperature.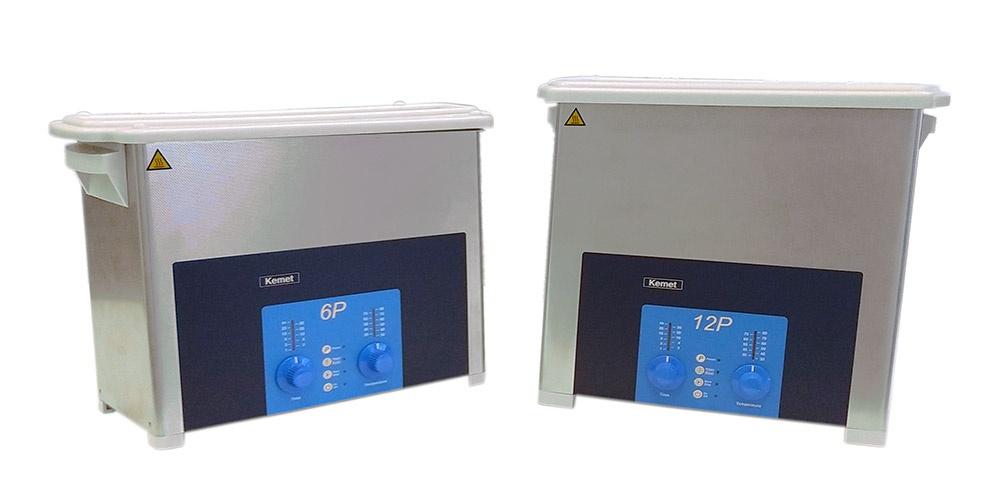 Features
Tank made from stainless steel (DIN 304)
High quality stainless steel mesh basket
Boost, Sweep and Degassing function
Easy setting of time, temperature and special functions
Dry run heating protection and automatic switch off after 12 hours of operation
Glass beaker system available for cleaning small parts
Manufactured from DIN 304 stainless steel, both internally and externally, they are easy to keep clean and hygienic. A drip protector guides any unwanted water droplets away from the operating panel and the internal control circuitry is protected against water splash.
We also have a very wide range of cleaning chemicals suitable for a range of different needs.
Technical information
Kemet 3P
Kemet 6P
Kemet 12P
Kemet 30P
Kemet 45T
Tank service volume (l)
1.9
4.3
9
20.6
45
Internal tank dimensions (mm)
235 x 134 x 97
298 x 150 x 150
297 x 238 x 200
500 x 298 x 200
500 x 300 x 320
Internal basket dimensions (mm)
191 x 95 x 50
246 x 106 x 75
240 x 181 x 120
443 x 238 x 120
455 x 265 x 195
External dimensions (mm)
322 x 175 x 214
380 x 184 x 265
380 x 272 x 323
570 x 330 x 320
600 x 425 x 467
Ultrasonic power nom/peak (W)
80/320
150/600
200/800
300/1200
400
Ultrasonic frequency (kHz)
37
37
37
37
37
Heating power (W)
200
400
800
1200
1600
Voltage
230V - single phase - 50Hz
Product Code
359480P
359482P
359484P
359486P
359488T
| Accessories Available | Kemet 3P | Kemet 6P | Kemet 12P | Kemet 30P | Kemet 45T |
| --- | --- | --- | --- | --- | --- |
| Plastic lid | | | | | |
| Stainless steel lid | | | | | |
| Stainless steel basket | | | | | |
| Lid/beaker holder | | | | | |
| Set: lid/beaker holder, 2 beaker glasses 600ml with lid and rubber rings | | | | | |
| Beaker Ø 95 mm, 600 ml | | | | | |
| Beaker Ø 95 mm, 1000 ml | | | | | |