Removing Rust & Corrosion from Moulding Tool - Case Study
Customers Criteria: To remove burn marks and rust from mould tool
Component: Moulding tool
Material: Tool Steel
Contamination prior to cleaning: Burn Marks, Rust
Total number off: 2
Number off per run: 1
Process for cleaning mould tool
Allow the ultrasonic to heat up to temperature, then place the part into the basket and run a cycle of 10 minutes manually dunking after 5 to remove any loose debris. Do not leave the part in the ultrasonic for to long as this may start to blacken and discolour the part.
Etched effect: None
Before cleaning moulding tool
After cleaning moulding tool
Customers Criteria: Remove all contamination
Component: Tool
Material: Tool Steel
Contamination prior to cleaning: Grease, dirt, burn marks & plastic extrusion
Number off per run: 1
| Ultrasonic Cleaner | Cleaning Agent | Temperature(s) | Concentration |
| --- | --- | --- | --- |
| Versa 120 | H14 | 50°C | 10% |
| Versa 120 | De-ionised water | 50°C | 100% |
| Versa 120 Dryer | N/A | 70°C | 5 minutes |
Process for removing grease, dirt, burn marks & plastic extrusion
The tool was placed into the basket and then submerged into the tank and set for a cycle time of 10 minutes. As soon as the Sonics are turned on you can see the contamination being removed. After the wash cycle the parts have to be rinsed to neutralize any left on cleaning agent and contamination. Finally the parts were dried in the Versa hot air dryer set at 70°C for 5 minutes.
% Satisfactorily Cleaned: 100%
Before cleaning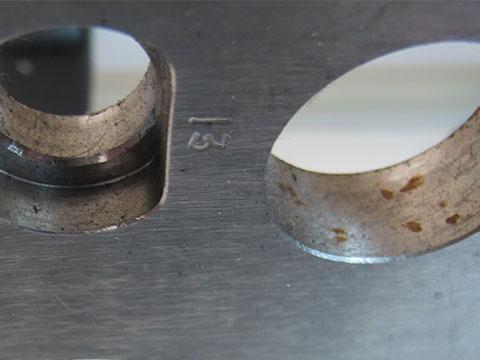 After cleaning