Cleaning Aircraft Parts (Pipes) - Case Study
Customers Criteria: Remove dirt and grease.
Component: Aircraft Hydraulic Pipe Line
Material: Stainless steel & plastic conduit pipe
Contamination prior to cleaning: General dirt and grease. Dried de-icing fluid, Carbon dust.
Total number off: 4 batches
Number off per run: 1 initially, then processed 5 plus per cycle.
Process for cleaning aircraft parts (braided pipe)
Initially, one pipe was processed on its own for a cycle of 20 minutes. Lifting the basket out and dunking after 10 minutes, just to move any settled debris. After the full 20 minute cycle is complete, move the parts into the Kemet MI 80 rinse tank and manually dunk several time to ensure a thorough clean.
After this initial test, multiple parts were cleaned in the same process all with excellent results.
Kemet suggest the use of two MI 80s with a filtration system if you have a large amount of pipe to clean. This would prolong the life of the fluid inside the tank due to the large amount of debris.
% Satisfactorily Cleaned: 100%.
Etched effect: None
Before cleaning aircraft part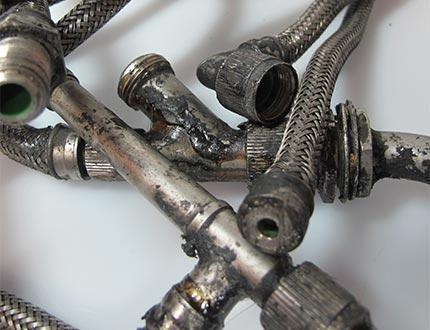 After cleaning aircraft part